Owning a retro car is considered a vintage luxury. Owning an old tech system? Well, not so much. In an era where communication technologies evolve and radically renovate, the voice-only legacy phone systems are increasingly losing support for its lack of functionality needed to stay competitive today. And that is especially true in the hotel sector.
Hotel phone systems are more than just wake up calls and 24h reception; It's an integral way to differentiate your property with guest experience, boosted productivity and improved bottom line. Modern communications technologies like VoIP, Unified Communications and Cloud architectures can deliver a range of business-enhancing capabilities that legacy systems can hardly offer. From BYOD technology for workflow optimization to high-touch solutions for 5-star services, options for a modern hospitality phone system are endless.
When you decide to upgrade your phone system or adopt a new hotel communications solution, keep in mind the following 7 must-consider elements in the hospitality sector.
7 Considerations Before Upgrading Hotel Phone Systems
1. Prerequisite: User Size, Trunks, and Others
Before upgrading your hotel phone system, make sure that you are armed with the right information to help you make a wise purchasing decision. The required system size and capacity should be foremost.
Start thinking with how many extensions will cater to your hotel size and how many people are likely to be on the phone at once. It can be largely dependent on the number of staff and guest users you'll need in 1-3 years from now. This helps to throw a basic hint on your system capacity requirement, along with some ideas of features needed.
Another important factor to consider is the external phone lines (trunk) to use. In most cases, your options will include analog lines, higher-capacity circuits like T1s or PRIs, next-generation SIP trunking, or any combinations. A typical PRI line that carries 23 voice channels might be sufficient for a smaller hotel. For larger properties, however, additional circuits or back-up lines are needed for overflow or redundancy purposes. In addition, it's often recommended that hotels turn to VoIP technology, as calls are much cheaper, either local or international.
2. Do More with Less: Address Your Hospitality Needs
While there are many love-to-have telephony features in the hospitality industry, not every hotel needs every function. A key step is to identify what functions you will most benefit from and what is essential for your daily operation tasks. To advance guest experience and improve employee efficiency, here are a few features and technologies you should consider.
Intelligent Call Control: a full refined set of call control features are basic for hoteliers to reduce labor costs and improve work efficiency. Reliable communications functions like call routing, IVR, speed dial and integrated wake-up calls help hotels to automate call flow direction and reduce repetitive workload.
PMS Integration: your hotel property management system (PMS) is the key to maximize operational efficiency, and if perfectly integrated with your hotel PBX phone system, guest booking, billings, minibar arrangement and etc. will become easier than ever.
Mobile Softphone: keep your hotel staff on a constant communication loop via their own mobile devices can fasten guest response time and improve team collaboration. Try to consider if such BYOD technology is included while evaluating a communications system.
Multiple Offices: if you are a chain hotel or a resort with dispersed locations, consider whether you can save money by routing calls between different sites over a VPN, or select a system with comprehensive branch office solutions, which will help to unite remote offices and save costs by enabling free inter-office calls.
A comprehensive view of the hospitality features your hotel phone system should have: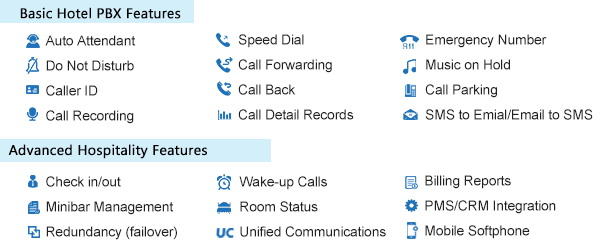 3. Staff Workflow Optimization & Management
If you don't have a property management system that can help you with daily workflow optimization and hotel management, one great option is to find a PBX system with a built-in hotel App/Module to address the issues.
Such value-added hotel applications can deliver additional hospitality features such as check-in/out, room status, billing report, minibar management, and wake-up calls, with minimal investment and without the worry of interoperability issues. On top of that, a real-time dashboard display is often provided for easy operation. For small properties with limited staff and service-related issues, this can be a game-changer, as hotel staff can improve response times, centralize management, and in turn make for a seamless guest experience.
4. Costs: Existing Infrastructure Interoperability
Budget control is often the deciding factor that can dictate whether and how to purchase a new solution. As you begin to search for a new communications solution for your hotel property, it's important to evaluate if your existing infrastructure can be perfectly leveraged to reduce expenses. An excellent interoperability between the new solution and your existing PBX, IP Phones and analog phone set, gateways, cabling or any type of trunks will not only help you achieve best cost-efficiency, but save you much trouble on the provisioning process as well.
If you're considering making a transition from analog to IP network, one good solution for budget-cutting is to deploy VoIP gateway(s). They help bridge the two disparate networks and cost only a fraction of what it needs to replace analog phones, fax machines, wiring, and other valuable analog assets.
5. Ease of Use and Management
The best phone systems for hotels are not only functional but easy to use. Be wary of business phone systems that leave you to service the system on your own. Reputable providers offer easy-to-use devices, strong technical support, or even managed services to keep your system running smoothly. In most cases, a user-friendly phone system should arrive plug-and-play ready and be equipped with robust built-in management features for system administrators.
A simple feature checklist for easy PBX administration and control:
Plug and Play Capacity
Web-based Control Panel (Online Portal)
PBX and Resource Monitor
Event Notification (Instant Alert)
Business Hour Rule
IP Phone Auto Provisioning
Remote Management
Firewall and IP Auto Defence
Online Help
Easy System Capacity Upgrade ( Scalability)
6. Disaster Avoidance and Recovery
Accidents happen. Failover solutions are always necessary for hotels of 24/7 availability, so as to minimize business downtime in case of circuit failures or phone service disruptions.
Make sure that your provider has a reliable disaster recovery plan to get your phones back up to speed in the worst-case scenario. Solutions like dual-PBX standby, 4G LTE failover, Auto Backup & Restore should be taken into considerations.
7. Think Ahead – Cloud or On-premises?
Now that you've got a basic understanding of your existing infrastructure and what you need, it's time to decide which type of communications system makes the most sense for your hotel: a hosted server on the Cloud or an on-premises VoIP solution.
While cloud-based solutions are gaining momentum (and for good reasons), this is not always a straightforward decision. Both systems would work great if sufficient services are offered. From the financial aspect, hosted solutions traditionally run on an OpEx (operating expenses) model, while on-site solutions run on a CapEx (capital expenditures) model. If your hotel finances call for one model over the other, that will likely decide which type of system you'd deploy.
---
Yeastar – Your Trusted Adviser
The hospitality communications system is a long-term investment, and it's important to find a solution that best fits your hotel and grows as your need changes. With multifarious options and new technologies to consider, conducting a searching and selection process may feel a bit overwhelming. Luckily, our blog's houses provide insights on key communications technologies that you might need to consider: cloud telephony, unified communications, BOYD (mobility) and etc. You can also find specific hotel cases and get a hint on how other hoteliers upgrade their phone systems.
If you need a specific solution, our full-scope hospitality solution will demonstrate how our services could benefit your hotels and what kind of devices or infrastructure should be involved. Just take a look and find what you need!
And, of course, our solution specialists are always here to answer questions and provide helpful advice, don't hesitate to contact us the way you like.