Email creates a fast, reliable form of communication that is free and easily accessible, allowing people to foster long-lasting, long-distance communication today. Similarly, Yeastar S-Series VoIP PBX is engineered for the communications needs of today and tomorrow. But do you know what magic tricks you can play when utilizing these two together?
Prerequisite: Setting a System Email in S-Series VoIP PBX
Before we dive the tricks you can do with Email and S-Series, you need to set up a system email for your PBX, which are used to send and receive important messages from the PBX.
Configuration Path: S-Series Web Interface > Settings > System > Email to configure the system email. After finishing the configuration, click "Test" to test the email. In the prompt, fill in an email address to send a test email to verify the Email settings.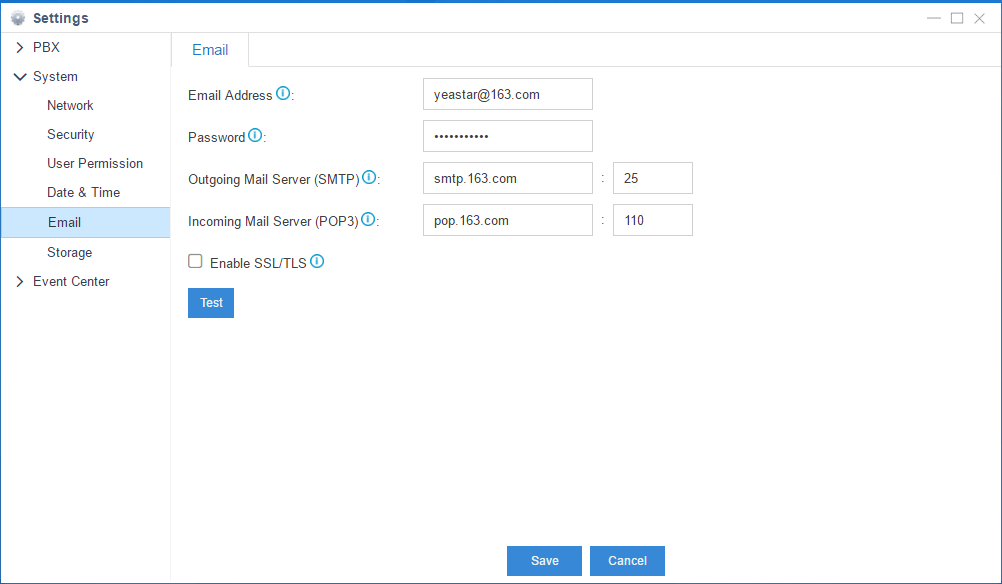 Then let's play the magic tricks together
1. SMS to Email / Email to SMS
If your S-Series VoIP PBX has already been installed GSM or 3G Module with SIM card, and the GSM/3G trunk is ready to use, you can use SMS to Email and Email to SMS features on your S-Series VoIP PBX.
Image that you are hanging out, but suddenly there is an urgent email needs to be sent. You can easily edit the email content in a particular form through the SMS on your mobile phone and send it to the GSM trunk number on your S-Series VoIP PBX.
The S-Series VoIP PBX will automatically transform the SMS to the email format first, and then send the email to the target email address through the pre-configured system email.The Email to SMS feature is exactly contrary to the above steps.
You can also get a more comprehensive idea of SMS to Email / Email to SMS Feature, about how it works and how to configure the feature on S-Series VoIP PBX by the short Techtalk video below.
2. Fax to Email
With the system email, Yeastar S-Series VoIP PBX can send incoming fax as an email attachment to the designated email address. As a result, no fax server or additional phone line will be needed, and you can receive fax on the go. The designated email address to receive your fax could be associated to an extension or a custom one.
Watch the video below and learn how to send and receive fax with S-Series VoIP PBX.
3. Voicemail to Email
More and more people get used to listening to the voicemail through their extensions in case of missing some important messages. However, does it mean that only by using the extension you are able to listen to your voicemails? The answer is no.
With the Voicemail to Email feature, Yeastar S-Series VoIP PBX can send extension user's voicemail messages to his/her email address. This helps users to receive a voicemail audio file as an email attachment and quicken response time when out of office.
Yeastar S-Series VoIP PBX also supports Visual Voicemail, which allows you to gain an intuitive view of your voicemail message lists, play, save or delete messages with ease. Learn more details about the feature here.
Related: Top 4 Benefits of Voicemail to Email

4. Receive Event Notification
Sometimes, when your S-Series VoIP PBX system has an issue, like CPU Overload, trunk registration failure, or even needs an update, it could be pretty annoying if you can't get the first look at it. Fortunately, the event notification feature of S-Series allows you to be responsive to events on your telephone system. You can get prompt notifications to any predefined events via email, SMS, or even a phone call.
You can learn how to set up the feature here.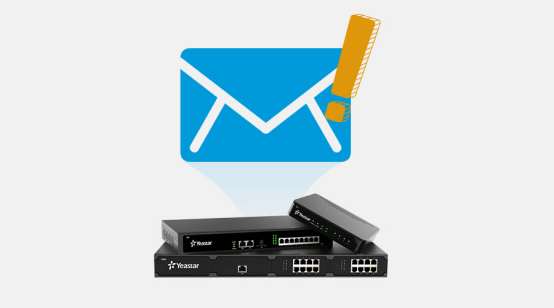 5. Recover Password
In this Internet era, passwords are required almost for every account. However, the more complex the password is, the more easily to be forgotten.
To eliminate such trouble, Yeastar S-Series VoIP PBX provides "Recover Password" service with high efficiency and security.
Simply click the "Forgot Password" in the login page of S-Series VoIP PBX user panel, enter your username, then the system will send a "Password Recover Link" to your preconfigured email address, with each you can reset your passwords in minutes and securely.