We're excited to announce that a new firmware version for S-Series VoIP PBX (v30.13.0.30), K2 IP-PBX (v80.13.0.30) and Yeastar Cloud PBX (v81.13.0.30) has been released today.
Featured a milestone upgrade on Linkus UC solution and extended system usability, this firmware includes a bucket load of new features! It introduces the Yeastar CTI for easy remote control of physical desk phone; makes the robust Contacts feature available on Linkus Desktop Client & IP Phones; and also includes the Busy Camp-on, Fax to PDF, OPUS Codec support and more new functions to deliver a more unified communications experience.
New features and optimization since the last firmware release.
Yeastar CTI
Supported PBX Models: S50, S100, S300, Yeastar Cloud PBX, K2 IP-PBX
If you want to power easy click-to-dial from your PC desktop and still use a physical desk phone, now you can and achieve even more! Linkus Desktop Client with newly-added Yeastar CTI feature allows you to control your desk phone from your computer desktop remotely, providing amazing productivity. When CTI mode is enabled on the Linkus Desktop Client, the following actions can be performed remotely on your connected desk phone:
Initiate calls from your desk phone with mouse click – no retyping of phone number
In a click, you can call any of the phone numbers appeared on your computer screen from your desk phone. You don't have to spend time-saving contacts information or manually enter numbers on your physical desk phone. The integrated Linkus Directory, Contacts, Select & Dial with Hotkey, and Yeastar Click-to-Call with Chrome extension allow the search and dialing of phone numbers – fast, easy, and error-free.
No matter it's your colleague extensions or Personal/Company Contacts on Linkus, or your leads saved on web-based CRM, local files, or chrome browser, simply click, call and talk. The Yeastar CTI with Linkus Desktop Client not only simplifies your call operations but also caters to your desk phone experience.
Easy call transfer, hold, retrieve, record and more
Make Linkus Desktop Client the visual control panel for your desk phone and make call operations like call transfer, hold, retrieve, record, and more easily within clicks on Linkus graphical user interface, eliminating the needs for remembering multiple feature codes.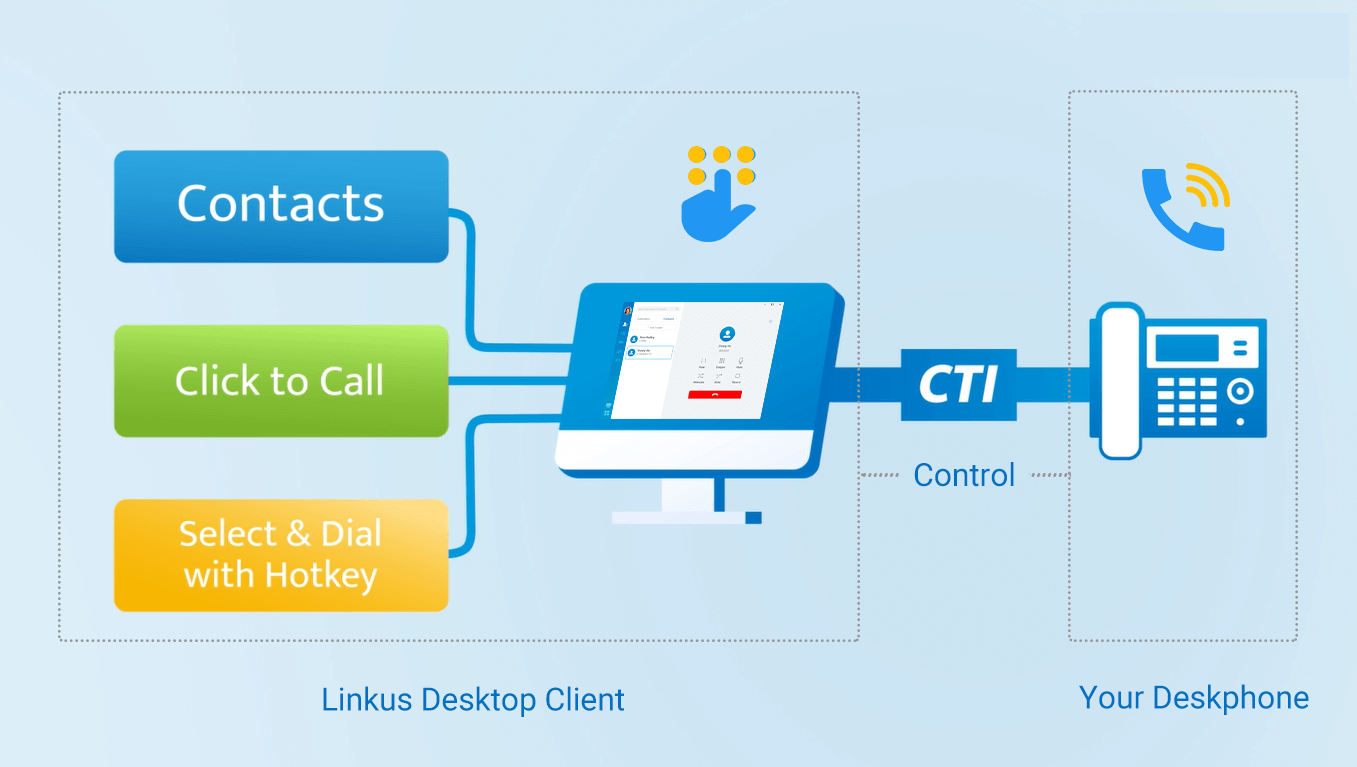 How to enable Yeastar CTI on Linkus Desktop Client?
If you use analog phone or IP phone that don't support uaCSTA feature, you will only need to make sure that your desk phone use the same extension number as your Linkus and turn on the CTI mode on your Linkus Desktop Client.
If you use IP phone from Yealink or Fanvil that supports uaCSTA feature (check supported phone models here), besides the method mentioned above, you can also choose to connect your IP phone to Linkus via uaCSTA! In this way, more robust call control features, such as Attended Transfer, Swap Hold, and Do Not Disturb Synchronization, are made possible on Linkus Desktop Client (CTI mode). The configuration is only clicks away.
Contacts on Linkus Desktop Client and IP Phone
Supported PBX Models: S50, S100, S300, Yeastar Cloud PBX, K2 IP-PBX
Yeastar native Contacts feature now available on Linkus Desktop Client and IP Phone*! Together with the previous support on Linkus Mobile Client and PBX web interface, the newly added support makes your Contacts management, even more, easier and powerful:
Quick add, delete, and click-to-dial your Personal/Company Contacts on PBX web interface and Linkus Desktop/Mobile Client.
Sync Contacts among Linkus Mobile Client, Linkus Desktop Client, IP Phone, and PBX web Interface
Alternative for the LDAP phonebook on your IP Phone: lighter yet better

*Noted: the IP Phone support for Yeastar native Contacts feature now only includes Yealink IP Phones. Please see the supported phone models from the release note.
Busy Camp-on
Supported PBX Models: all models in S-Series VoIP PBX and Yeastar Cloud PBX,
Busy Camp-on is a feature where the PBX will camp on a called party and inform the caller as soon as the called party becomes available given the previous attempted call cannot be successfully established, letting callers wait in line for a busy extension without being forgotten.
Other New Features:
Fax to PDF for all Yeastar PBX series
OPUS Codec supported for K2 & Cloud PBX
API 2.0 Released with streamlined interfaces for all Yeastar PBX series
PBX Hot Standby Upgrade for S-Series & K2 PBX: support Linkus Cloud Service subscription auto-sync between the primary and secondary server.
API 2.0 Developer Guide: S-Series VoIP PBX, Cloud PBX, K2 IP PBX
Optimization and Bug Fixes:
Supported to add PBX Contacts to Yealink phones by auto-provisioning.
Fixed the Fax issue: The Fax transmission would be failed when T.38 was enabled for the trunk.
Optimized the ring strategy for Queue and Ring Group: When the agents set Call Forwarding rule to Always for their extensions, the call from Queue or Ring Group would not be forwarded.
Added support for assigning an external number as the Destination of the inbound route.
Optimized the Voicemail: The name of the voicemail received via email consists of caller ID, caller name and file ID.
Fixed the issue of the push notification for Linkus calls: With Presence set to Do Not Disturb, members in a Ring Group could still receive incoming calls.
Besides what has being mentioned above, there is also a packed of bug fixes on Multisite Interconnect, Call Recording, User Permission, Date & Time, Storage, etc.
Release Note: S-Series VoIP PBX, Yeastar Cloud PBX, K2 IP-PBX
How to Upgrade
S-Series VoIP PBX: Please check for the new upgrade in your S-Series VoIP PBX web interface.
Yeastar Cloud PBX: Please check for the new version in the PBX web interface or contact your service provider to upgrade the system.
K2 IP-PBX: Please download the new firmware here.
To use the brand new CTI feature and added Contacts support on Linkus Desktop Client, you will also need to upgrade your Linkus Desktop Client to the latest version (v1.10.3), please download it here.