What is a Call Center? Call centers are centralized offices – or facilities- that are habitually purpose-built to handle phone calls for an organization. They're operated by phone representatives or "agents" who field calls for customer support and are often serviced as phone-based hubs for telesales, telemarketing, after-sale support, and other customer services.
In this blog, you will find the basic definitions of different center types, terminologies, and 9 key technologies that a functioning call center should have. You'll also learn how customers at both a physical and virtual call center are impacted by technology.
Inbound Call Center vs. Outbound Call Center
To learn the answer to 'What is a call center?' you must understand that, there are basically two types – inbound and outbound centers. They focus on different business functions and have different metrics to track for performance evaluation and elevation. However, both types of call centers rely on center agents to deliver customer service that creates positive customer interactions.
Inbound Call Center
The first of the two types of call centers is an inbound call center that receives and handles phone calls from current and potential customers. Instead of actively making calls, these center agents react to situations initiated by customers and find effective ways to resolve them accordingly. These call centers often field inbound customer services like expert technical support, over-the-phone order processing, advertisement inquiry, and so forth.
The idea behind designing one of these centers is to keep agents as productive and busy as possible. This allows them to be the most effective when customers call. Technologies like intelligent call routing, IVR, and customized on-hold announcement are often relied on to reduce call drops and improve customer satisfaction. In the inbound call center, first call resolution (FCR), average waiting time, abandoned call rate, transfer rate and customer satisfaction score (CSAT) are the top metrics to measure. Call centers value these metrics because they are frequently tasked with delivering customer service to dissatisfied or frustrated customers. It's imperative to provide a good experience.
Outbound Call Center
An outbound call center, on the other hand, focuses on making outgoing calls. This type of call center is more sales-oriented. The agents often work with a list of customers/prospects and make outbound calls proactively to promote a complementary product or service, survey shoppers, and collect market research. Work done in these call centers may lead to increased sales revenue or marketing insights. They may also uncover previously unreported customer service issues.
In the outbound call center, based on the underlying business purposes, metrics like the number of calls per average unit, list penetration rate, first call close (FCC), and average length of interaction are often used as the key KPIs to evaluate agent performance. Outbound call centers remain one of the key components of telephone sales and providing customer service outreach.
Virtual Call Center
A virtual contact center isn't a third type of call center. Instead, it's proof of the modernization of the call center industry. A virtual contact center differs from other contact centers in that customer service agents work from home, or in other remote locations. These contact centers may accept both inbound and outbound telephone requests. A call center agent may prefer to work at a company that offers this as there is more flexibility, and lower turnover rates.
---
Call Center Technologies and Essential Features
Depending on organizational needs, call centers can implement an array of different technologies to maximize productivity. These include the underlying infrastructure of an automated phone system that handles both inbound & outbound calls, and more advanced call center components – such as Automatic Call Distribution (ACD), IVR applications, recording solutions, performance monitoring & reporting utilities, and various desktop & software integrations – to optimize agent engagement for improved, consistent customer satisfaction.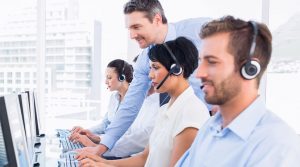 Typically, a refined call center uses a mix of the following technologies.
1. Automatic Call Distribution (ACD)
Automatic call distribution (ACD), otherwise known as routing system, is a telephony technology that distributes incoming calls programmatically to the right customer service agent according to preset criteria. The call routing algorithm for ACD can work in a few different ways, considering various factors like day of time, incoming phone number, agent availability, and the skills or departments needed on the receiving end of a call. Management at call centers can simply use the criteria they need to manage this. One of the typical algorithms especially for a call center is called Queue Ring Strategies, which route calls to call center agents based on past agent activities. For example, a customer service agent may receive a customer's call because they have an established track record with a certain technology.
2. Queue Ring Strategies
Similar to hunt or ring groups, call center queues capable of ACD offer additional ring strategies to fine-tune the way that inbound calls flow to call center agents. Each type of strategy has its pros and cons. Some prioritize speed while others boost agent productivity. Using the right one will help reduce abandon rate while dividing workload fairly among agents. Here are the most commonly used Queue Ring Strategies and their common use cases.
Strategy
Explanation
Common Use Case
Ring All
Ring all available agents simultaneously until one answer
The preferred method to reduce customer waiting time
Linear
Rings agents in a fixed order. Calls are initially distributed to the first agent on the list and move to the next agent only when the previous one is busy
A good choice to distribute calls to more experienced agents first and drive faster call resolution for customer inquiries.
Least Recent
Ring the agent who was least recently called
Recommended practices to balance agent workload, allowing for better agent utilization across the queue
Fewest Calls
Ring the agent with the fewest completed calls
Rrmemory
Also known as "Round Robin", where the system remembers the last agent it rang and starts the sequence from the next agent.
Random
Ring a random agent
3. Interactive Voice Response (IVR)
IVR, or Interactive Voice Response, is commonly found in call centers to facilitate self-service for faster resolution of inbound calls. It interacts with callers through a series of automated menus and collects instant caller input – for example, account numbers, required services type, or prescription refill codes – to address queries with auto-response. In some cases, an IVR itself could handle the entire service process without human intervention. In other cases, it helps auto-direct callers to the required customer service agents or departments via call distribution system, freeing callers from duplicated data input or multiple transfers.
4. Enhanced On-hold Announcement
Queueing is often the case in call centers. To improve caller experience in that process, proactively serving helpful information is critical. Using enhanced on-hold announcement, you can better engage callers waiting in line by playing custom prompt/music or announcing the caller's position and estimated waiting time. In some cases, the on-hold announcement can be combined with IVR to provide callers with alternative routing options (e.g. opt out of the queue and leave a voicemail) to facilitate queue management.
5. Call Monitoring, Barging, Whisper Coaching
Live call monitoring, barging, and whisper coaching can be invaluable tools to enhance the agent coaching process as well as managerial practices. Monitoring allows call center managers to listen to a live telephone interaction without caller and agent knowing, while whisper coaching enables managers to speak to an agent and provide assistance directly without letting the caller know. Both of these are helpful in training situations when a supervisor may need to know how the agent is doing, and provide customer service help. The call barging is a more extended feature that allows managers to talk to both agent and the caller in an ongoing call for faster communication resolution. The latter is especially useful at any contact center where complex customer service issues are common.
6. Call Recording
Having monitoring capabilities are fantastic, but not enough for busy managers who don't always have time to listen to live calls. Recording is here to fill the gap when call centers are simply too busy. When used for quality management, recordings between customers and agents can be stored, retrieved, and evaluated to determine if agents are following call flows, building rapport, offering cross-sell products, etc. Likewise, it allows call center teams to recall conversations on-demand for regulatory compliance. A properly-built recording solution makes it easy to find conversations via date, time. Caller ID, Agent ID, etc. Recorded inbound and outbound calls can even be used for training service representatives best practices for providing customer support.
7. Real-Time Metric Tracking & Reporting
Data analytics technology in call centers serves an essential ongoing function to ameliorate performance. A refined call center solution would integrate a real-time metric visualization tool (commonly known as wallboard/dashboard), audible threshold alerts, and report generation to spot emerging call center trends and provide data for in-depth call center optimization.
Metric visualization tool: usually a central dashboard that analyzes and displays a range of relevant call center metrics and KPIs in real-time.
Audible threshold alerts: email, phone, or SMS notification systems that prompt call center managers on SLA threshold overflow or important call center activities like call missed and call abandoned.
Report generation: a comprehensive reporting tool that provides real-time/historical statistics on agent, queue, and group-level performance by date or by an interval.
8. Administration Console
An administration console is a dynamic, streamlined user interface that delivers immediate visibility to queue traffic and easy access to a variety of agent activities, such as call transfer, pickup, hold, agent log-in/log-out, and more. Supervisors at call centers can use this to gain immediate insights into customer service performance. That's something they need to know to ensure the best customer experience is being delivered.
9. Computer Telephony Integration (CTI) / Desktop Application
CTI, or Computer Telephony Integration, is frequently implemented in call centers to allow agents to manage calls on computers rather than physical handsets. When used in tandem with a unified desktop application for call center, CTI could facilitate advanced features like screen pop (showing caller information upon incoming calls), remote desk phone control, and automated dialing, which in turn lead to increased call center agent efficiency.
---
Call Center Solution – Where Does Your Company Stand?
There is no one typical technology that can skyrocket your call center performance, but there are certainly ones that can help you turnaround your call center's efficiency in connecting callers to the right agents, and eventually build a positive customer experience.
If you have missed any of the technologies above for your call center. Maybe it's time to think about where your company stands, what you need, and how your call center can be better built for greater outcomes. Other call centers are implementing telecom solutions to give better customer service. Are you positioned to do the same?
Yeastar Call Center Solution for P-Series PBX Users
Beyond just a PBX, Yeastar P-Series PBX System integrates the start-of-art automated phone system with a higher degree of call center management capacity to empower, simplify, and enhance inbound call center services for SMEs.
Click here to have a closer look at P-Series PBX System! Or you can schedule a demo to experience the PBX's robust built-in inbound call center solution together with more advanced phone system features. Don't miss out!