For tens of thousands of people every day, Yeastar Linkus UC Clients is the center of "in the moment" communications. From the moment they sign on, to the last phone call, video meeting, and message of the day, users get almost all connections in one spot.
Designed for Yeastar business phone systems, Linkus UC Clients provide a single access where employees can seamlessly switch between different modes of communication and collaborate from any device. With a load of solid features combined, it reduces the number of technology employees have to manage, allowing them to focus on their tasks and drive business outcomes.
Here are several highlights on how to use Yeastar Linkus UC Clients during the workday and get the most out of it.
One-click call Your Contacts, Even If You're Not at Your Desk
With Yeastar Linkus UC Clients for web browsers, mobiles, and desktops, you won't have to remember phone numbers and dial them on a keypad any more. To begin a call, simply locate the person in your Extension or Contact list and click or tap on the Call button.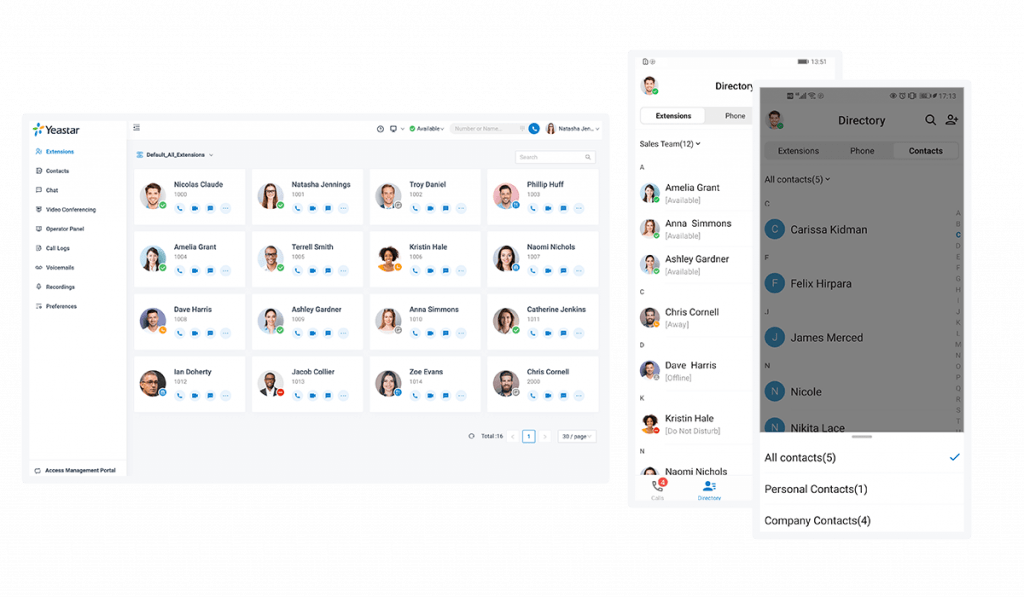 Yeastar business phone systems provide a PBX-native contacts management feature – together with the built-in enterprise directory (Extension List) – for you to sync contacts across all Linkus UC Clients & IP Phone, enjoy fast dialing, and benefits from incoming caller ID match. You will no longer need to switch between applications to search for a contact. Just open your Linkus web/mobile/desktop app, you will find all your contacts there.
No matter where you are and what devices you are using, take advantages of the simplicity of contacts access and management:
Pull up a contact by searching the name/number or scrolling through the alphabetized directory, a much effortless options than having to type in the contact on a desk phone key pad.
Add and manage external contacts to your private Personal Contacts or team-shared Company Contacts with data fields such as name, number, email, company, and more.
Related: Yeastar Native Contacts Feature: the Benefits and How to Use
Create and Start Meetings in an Instant
No extra steps to download a meeting app before you get started. In the Linkus Web Client, it's easy have 1-click meetings right on your web browser, whenever you need it.
The intuitive Video Conference interface on the Linkus Web Client allows you to create and launch a web-based meeting within a few clicks of a mouse. And all invited participants can join a scheduled or ad-hoc meeting from the web browser via a unique meeting link. There is no connection confusion or extra setups. You can get down to business in an instant.
Better yet, the integrated video conferencing feature also comes with several essential collaboration tool, so you can make the most out of your meetings with customers or coworkers. It allows all the meeting participants to:
Broadcast a view of desktop, a specific application, or even a browser tab.
Chat throughout the meeting to add more context, share links, or just have a productive side conversation.
Change the video display layout to see how others react at the same time.
Mute his/her own audio/video channel as needed.
Chat 1:1 or in Group with Teams and Share Files
Optimal for teamwork, Yeastar Linkus UC Clients also support instant messaging feature for your employees to stay connected across teams and time zones. Similar like "call button", the individual or group chat is only a click away once you locate your coworkers in the Extension list. You can create different chat groups for different teams and projects. And rich messages that include emojis, links, or files are also supported to consolidate the collaboration.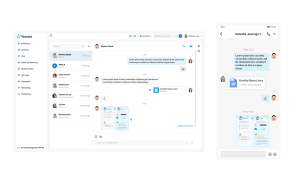 Besides, thanks to the multiclient support of Linkus UC Clients, users can seamlessly switch from a conversation on their web browser/desktop to their mobile phone and still access the same messages and files. The chat histories are auto-synced across the Linkus UC Clients and can be accessed from virtually any devices that users used.
Better yet, it's also easy to switch to a phone call during a text message, as Linkus UC Clients have integrated the phone, video, and chat – all in one single app for you.
Control Remote Desk Phone
If you want to power easy click-to-dial from interactive desktops whiling still using IP phone or analog phone, you get it covered! The Linkus Web Client and Desktop Client provide easy 2-click CTI setup for you to connect your desk phone with the Linkus Clients and perform remote call operation control.
When CTI mode is enabled on the Linkus Web/Desktop Client, you will be able to initiate and control calls from your desk phone with mouse clicks. Call operations like transfer, hold, retrieve are only clicks away on computer. And there is no more retyping of phone number or remembering multiple feature codes. Just take benefits of easy panel control on computer while without sacrificing your desk phone calling experience.
Monitor Call Center Performance and Manage Calls at a Glance
Get a direct and effective picture of how you're communicating with your customers as a call center! The Linkus Web Client comes with Queue Panel and Wallboard interfaces to maximize agent efficiency.
Right on the Queue Panel, queue manager can spot the emerging trends at a glance and fine tune the queue call flow with drag-and-drop operations. The dynamic data columns display the current active/waiting call lists, agent presence, and key queue and agent performance statistics at the same time. When there is a call jam, the manager can easily drag waiting calls to available skilled agents for faster call resolution, or simply right click the mouse to monitor a call and guide agents on their conversations with customers directly.
Besides, for all queue agents, real-time Wallboard is also there to let them know how they perform at the moment. Queue performance metrics like a number of waiting calls, average waiting time, abandoned rate, and SLA adherence are included. And you can make your key performance indicators front and center on the wallboard with customizable data widgets
Related: How Yeastar Call Center Solution Works to Delight Your Customers
Drag-and-Drop to Route Calls, Companywide
Perfect for receptionist, the Linkus Web Clients also come with a dynamic Operator Panel for you to get a holistic view of the companywide call activities and dispatch calls based on the real-time availability of employees.
The dynamics panel are combined with several "boxes" that show the real-time status of extensions, ring groups, queues, parking slots, and group voicemails respectively. When it's needs, you can simply drag calls from the inbound/outbound call list and drop to the box (your preferred destination) to dispatch calls, simple and easy.
Related: Using the Operator Panel to Optimize Call Management
Use Linkus Chrome Extension to Click-to-Dial Numbers on Web Pages
In addition to the Linkus Web/Desktop/Mobile Clients, Yeastar business phone systems also introduce a free Google Chrome extension – Yeastar for Linkus for Google – for you to miss no calls and simply call handling directly on your web browser.
Besides all its lightweight softphone capacity – easy dialpad, active call control, never-missed incoming Call Popups and etc. – the extension is best positioned to allow you to effortlessly launch calls to any numbers that are displayed on web pages. It can auto-identify the phone numbers shown on the browsers and converted them into clickable links, so you can click to dial directly through your phone system.
The Bottom Line
The Yeastar Linkus UC Clients offers an array of capabilities to help make business calling easier and more user-friendly. So go ahead and equip all your staff members with the powerful app right now!
You can download the Linkus Mobile/Desktop Client directly on our Linkus download page. The Linkus Web Client is only available with Yeastar P-Series PBX System and doesn't require any download – just log in to your P-series PBX extension account on your web browser.
Do not have a Yeastar business phone system and want to try the Linkus app?
You can test the Linkus app with Yeastar Cloud PBX 14-day free trial. The essential audio calling, chats, contacts features, CIT, and more features are included. If you like to experience the premium features like Video Conferencing, Call Center Console, and Operator Panel that are only available on Linkus Web Client, please apply our P-Series PBX System Live Demo and let us showcase it for you – in live.