A call center is dependent on the performance of its agents and employees. Since the work rate and speed of a call center is time-sensitive, it is important that vital metrics are measured on a continuous basis to assess the performance of agents as a whole.
Call center wallboard can precisely fit in this picture. Displayed across one or multiple screens on call center walls, supervisor or agent screens, call center wallboards visualize real-time calling stats, KPI information, and other helpful metrics to keep agents and supervisors on track and in sync with their call center goals and milestones.
When combined with the "right" KPIs and information, call center wallboards can bring in a variety of positive impacts:
Provide Motivation to Agents – By conveying real-time KPIs to all group members, you can motivate sales and supports to understand where they stand and surpass their goals. Showing proper average queue performance help agents immediately spot their gaps and boost morale on what is outperforming.
Get the Ability to Adjust on the Fly – By displaying key operational metrics like the number of waiting calls and connected agents at a given time, supervisors can move more easily between queues while viewing KPIs and alerts on the wallboard, making data-driven, moment-to-moment decisions as situations change.
Monitor SLAs for Customer Satisfaction – A Service Level Agreement (SLA) is a commitment to provide a certain standard of service to your clients. Typically speaking, Service Level (SL) reflects the percentage of calls answered within a certain number of seconds. It's a key call center barometer and may fluctuate out of various factors like call volume, service outage, or agent absenteeism.
Increase Overall Productivity – Engage agents more and let them take ownership of their performance. The environment will change to where everyone in its wants to keep the metrics positive, hereby helping in enhancing the overall call center productivity.
But of course, there's a catch. Although there are numerous benefits to wallboards in a call center, they can also be distracting to agents if not strategically organized.
Nobody Likes A Cluttered, Same-old Wallboard
Call Center data abound – number of calls waiting, answered, missed or abandoned, goals, SLAs… But it can be too much. Think of a static, pure-text wallboard crammed with tens of statistics to follow. It's hard for human brain to effectively comprehend all of the information at once. Sharing too much details will only distract the focus, stress and even demotivate your agents.
It's therefore a question of highlighting a limited number of indicators and information that will make sense for your supervisors and agents. And the key is to strike the right balance between the relevant details and the attention-grabbing hitting numbers that agents have most control over.
So What is the Best Information for Call Center Wallboard?
It depends on the goal of a call center and how to achieve the said goal. Think carefully about what you're trying to incentivize. Your wallboard should integrate very factual real-time indicator that your teams can use to contribute to the overall improvement of the operation, at that time.
Perhaps you want to display metrics like Waiting Calls and Longest Waiting Time to let supervisors immediately detect call peak and adjust agent staffing in time; Or maybe you want to focus on SLA and Average Talking Time (or Average Handle Time) to engage your agents and compare the performance. There's no typical right or wrong information to display. It really comes down to your business goals and the way you want to keep your teams involved.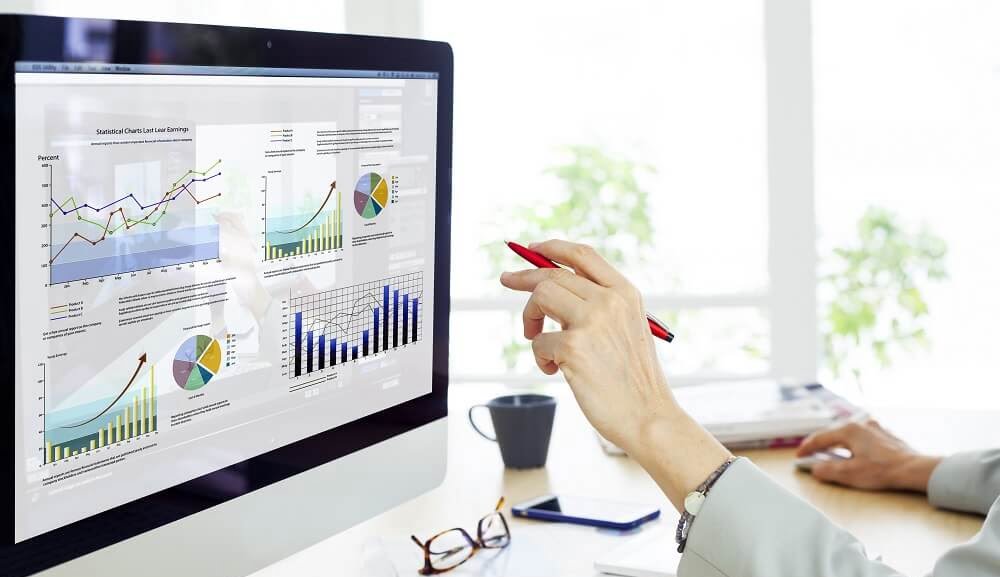 Effective Wallboards Incorporate Business Goals and Agent Needs
A call center wallboard is only effective and efficient if it conveys a simple and clear message that can be quickly grasped. Yeastar P-Series PBX System Call Center solution provides just the right wallboard tool that you can define to know the pulse of your call center at-a-glance.
Customizable and editable, it offers 16 available metric widgets about your call flow, KPIs, and agent status, allowing both supervisors and agents to act upon live statistics and make fast, informed decisions for their goals. These metrics include:
Call activities at the moment: get insightful overview on current call activities of a queue, including total number of waiting calls, active calls, missed calls, abandoned calls, answered calls, and total calls of the day, week, or month.
Agent overview: monitor the presence and activity status of your queue members at a glance, including total agent number, number of agents who logged in and agents who are free.
SLA: visualize the actual SLA for each queue based on the parameters that you have set up. Supervisors can also configure to receive instant alerts when it reaches the predefined threshold.
Analyzed KPIs completion rate: keep updated with critical KPIs completion rate, the wallboard could show call abandoned rate, answered rate and missed rate in numbers and intuitive graphics.
Key time metrics for customer services: evaluate the key time metrics that determine whether customers are best served in the queue and agent efficiency, including average waiting time, max waiting time, and average talking (handling) time.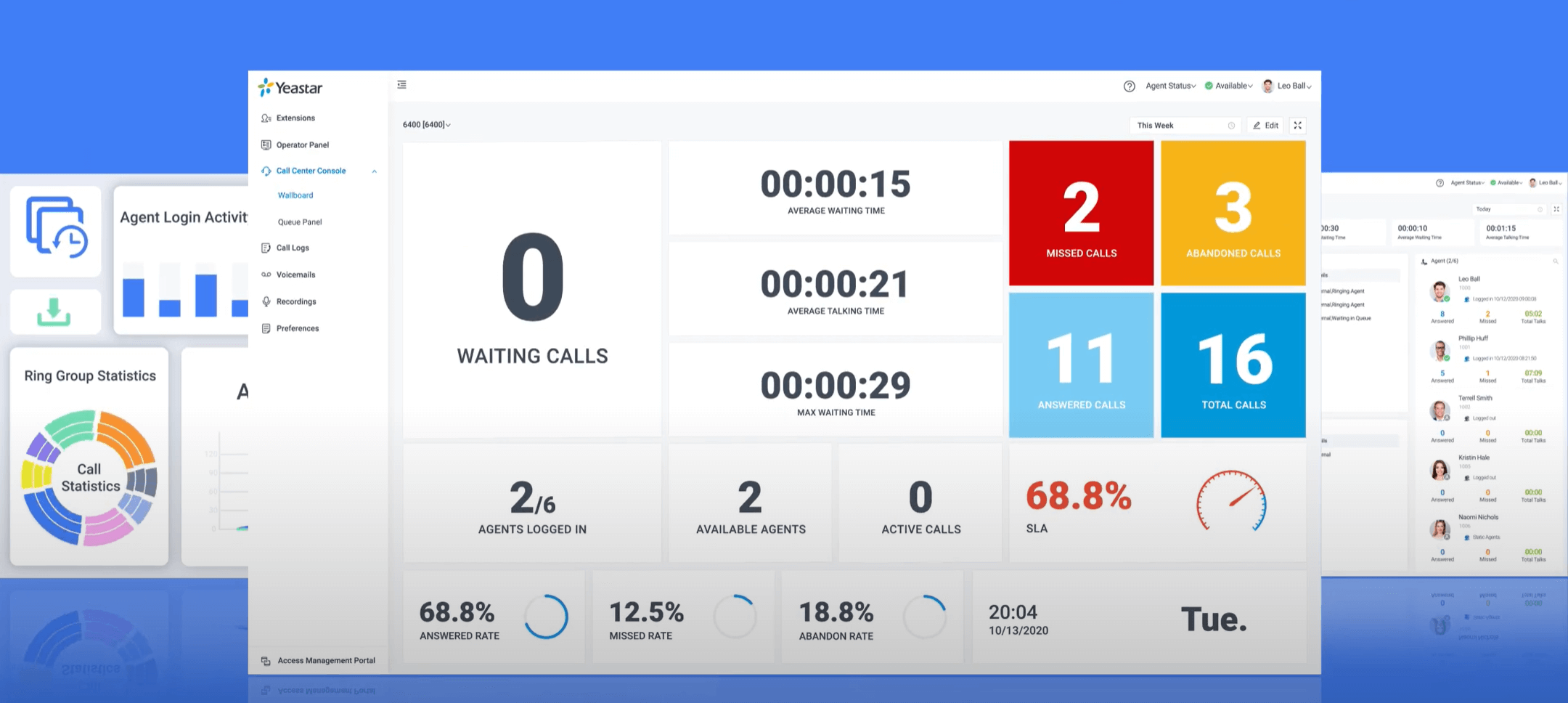 Above all these helpful metrics, you can select what to display and customize the wallboard layout to most engage your teams. Simply drag and drop to define the dimension of each widget and easily removed or edited metrics using the intuitive icon controls, so your key performance indicators are front and center for greater visual impact.
Besides, for a further step in your real-time managerial and analytical operations, Yeastar P-Series Call Center wallboard also supports multi-screen display and custom data timeframe selection. You can display two or more wallboards of different queues at the same time to compare the performance of different agent groups, or select different timeframes to easily compare a queue's performance of the current day, week, or month. Gaining comparative insights for your call center can't be easier.
Alongside the customizable wallboard, Yeastar P-Series PBX System Call Center Solution also incorporates advanced call distribution, switchboard-type queue panel, and comprehensive call center report to help you maximize agent productivity and deliver superior customer services.