There is no doubt that the cloud represents the future of business communications. Compared to traditional PBX, cloud-based hosted PBX services inherently cover more vertical markets, with small and medium-sized businesses, in particular, appreciating its cost-efficiency.
The digital workplace is leading companies to consider updating cumbersome and expensive on-site equipment. More and more employees are using their personal devices for work. The future of work is believed to be hybrid. All above are driving SMEs to seek out cloud-based communication solutions.
The past year has seen a dramatic increase in global cloud PBX deployments, with businesses realizing the unparalleled flexibility of the cloud in supporting remote working. As you know, Panasonic is about to exit the PBX market and lists "a rapid shift to cloud-based solutions" as the very first reason.
All indicate that given the evolving cloud landscape, a limited portfolio can potentially jeopardize a provider's business model. While many providers have enriched their portfolios to address the growing demand, it is still a whole new ball game for a number of others. The reasons holding them back may be that they believe cloud services are difficult to deliver, involve significant support burdens, or it is simply because they don't know where to start.
Here is an easy-to-start solution for you to jump on the bandwagon.
Base Your Cloud PBX Service on a Robust and Flexible Platform
To harness the market trend and keep ahead of the pack requires not only reliable and future-proof services that satisfy customer needs but also reliable infrastructure and a flexible service delivery model. Yeastar holds the answer for providers to quickly expand into the new service.
Built on a multi-instance infrastructure, Yeastar Cloud PBX Platform incorporates Yeastar Management Plane (YMP) and easy-to-deploy dedicated Cloud PBX instances for service providers to easily launch and monetize hosted voice services. If you are looking to craft and deliver your own cloud PBX service rather than reselling it from third-party providers, YMP is an ideal fit that speeds time-to-market and reduces management complexity.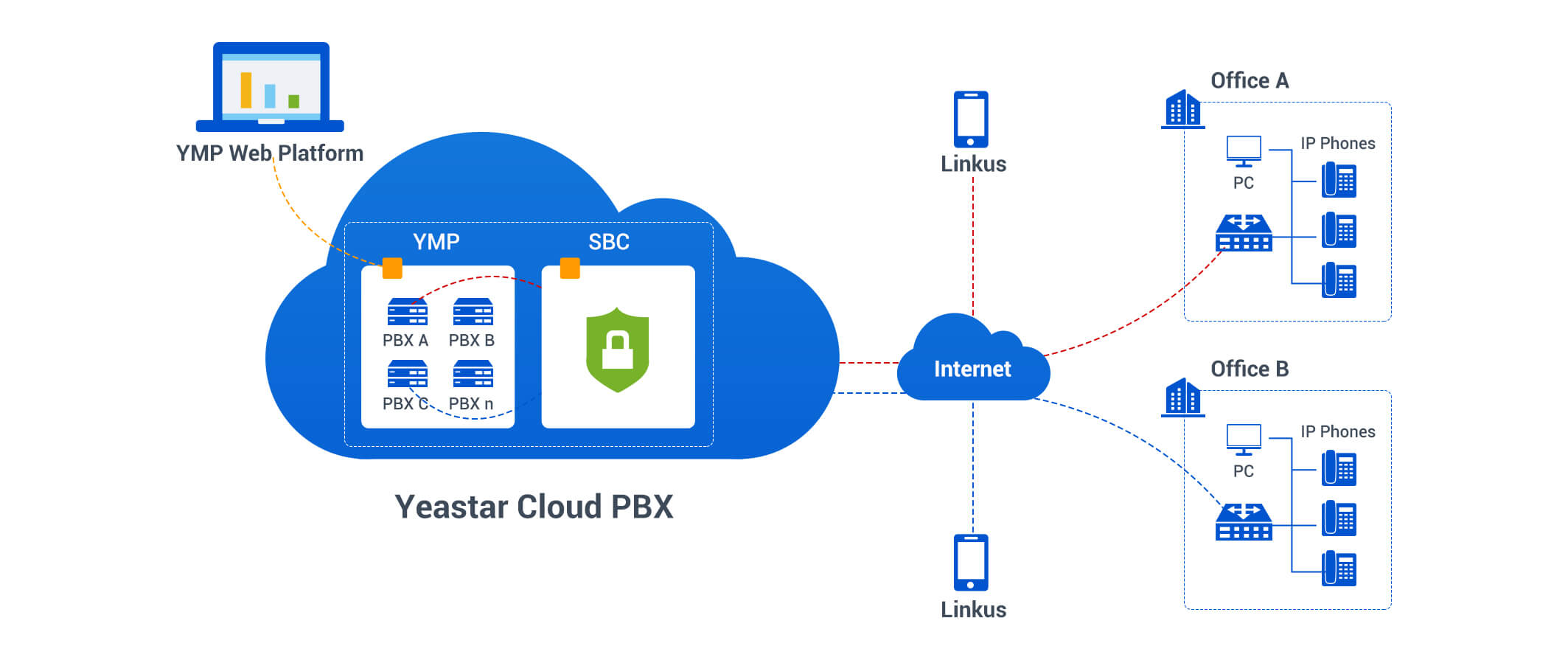 Simplify Everything, from Deployment to Delivery
It only takes minutes, if not seconds, to create a PBX instance for your customer through YMP. Your customer will have immediate access to a cloud-based business phone system and be able to manage it via the web. YMP greatly minimizes the overwhelming workload of the separate installation of PBXs.
When customers' communication needs fluctuate, scaling up and down the number of users and concurrent calls for them are just a few clicks away. You can stay responsive with quick service delivery and seize every type of opportunity with hassle-free scalability. Whether you have a handful of customers or hundreds, their phone systems can grow as their businesses.
Related Explore 9 Things about Yeastar Management Plane (YMP)
Offer a Complete Suite of Business Communication Service
With both service providers and business customers in mind, we have developed Yeastar Cloud PBX instances with all-inclusive enterprise-grade telephony features and advanced unified communications capabilities, catering to the diverse needs of SMEs.
Enabling an agile work-from-anywhere workforce with Linkus Mobile & Desktop Client
No extra charges or hidden fees for most features including IVR, queue, voicemail, etc.
Plug-and-play compatibility with an extensive and growing list of IP phones
Interoperability with worldwide SIP trunks and easy configuration with default templates
Interworking with PSTN, ISDN, and analog phones using Yeastar VoIP Gateways
Easy integration with Microsoft Teams, Zoho CRM, and other 3rd-party systems
Unifying headquarters, branches, remote offices, and teleworkers within a PBX system
Make an Easy Entry with a Straightforward Turnkey Solution
Introducing cloud PBX services into your portfolio doesn't have to take that much time, effort, and investment. Specially designed for those who are just about to dip a toe into cloud PBX service or do not want to commit that much time and financial resources at the beginning, the YMP turnkey solution is an OpEx model without substantial upfront investment in infrastructure.
Significantly Reduce Initial Expenses
The turnkey solution requires no server to get started and moves investment dollars from capital to operational expenditures, enabling you to penetrate the rapidly growing market with minimal upfront investment and risk.
Expedite Time to Market
Installation, technical support, maintenance, and system upgrades are all included. Not only do you get immediate access to YMP to start selling cloud PBX services right away, but you can focus on achieving customer excellence and generating revenues.
Roll Out Your Own Service
The choice is yours. We do not nickel and dime you for most PBX features. It is easy to bundle, package, and monetize your own service, such as bringing your SIP trunking service. Besides, Yeastar Cloud PBX instances allow for 3rd-party integration via API so that you can further develop customized solutions to differentiate from the crowd.
Extend Your Business Identity
From a branding perspective, our cloud offering comes with a co-branding option, giving you more choices and flexibility on the go-to-market strategy. You can customize the PBX instances created on YMP in terms of the product name, logo, favicon, welcome email template, etc., and stay in full control of the customer relationship.
Earn Margin-rich Recurring Revenue
Simply put, it is a shortcut to quickly launch cloud PBX services, acquire new customers, and build a predictive delivery model, which means once you've sold the service, you're going to get paid repeatedly.
Ready to Launch?
Don't shy away from including the fruitful cloud PBX service into your portfolio. Leave your comfort zone, embrace more potentials, and take your business to the next level.
If you're looking to learn more about Yeastar Management Plane, the turnkey solution, or how to accelerate your growth with cloud PBX services. Here is an FAQ document for further information. Or would you like to see and try out YMP for yourself? We also offer a free demo where you can explore the ins and outs of the service delivery platform.