The latest version of Yeastar Cloud PBX introduces a buzz at the moment, WebRTC Click to Call, to offer streamlined web-based real-time communication. This feature can be easily implemented and take effect immediately to benefit your business. We've covered all you need to know about it in this post.
What is WebRTC Click to Call?
"Click to call" used to refer to website visitors entering their phone numbers and waiting for a callback, which is more like "request a call". The advance of WebRTC technology has paved the way for the phrase "click to call" to take on a meaning that really reflects the connotation of its name.
In short, WebRTC Click to Call feature enables instant, real-time communications through the web browser to dedicated business representatives, requiring no plugins or additional software and creating a more user-friendly and effective customer contact experience. Between 2014 and 2017, the business adoption rate of WebRTC rose from 7 percent to 34 percent, per Aberdeen Group estimates reported in Destination CRM.
Some of the many benefits of WebRTC Click to Call are as below:
Convenience for customers to contact a business with just a click on the web browser.
Customers being able to call from any Internet-accessible place.
Drastic reduce on telco expenses for businesses.
Secure communication to ensure privacy between customers and businesses.
Making good use of website traffic to boost sales.
WebRTC Click to Call in Different Business Scenarios.
Sales: How often do your potential customers come up with questions when browsing your site, and so drop off before buying? In the purchase phrase, one-on-one care and attention is a great help in closing deals. This where WebRTC Click to Call can make a significant impact, especially when you offer complex products that require extra explanation to attract customers.
Customer Service: WebRTC Click to Call shows special promise in the arena of customer service. People call you because they want to talk to a human being. Initiating voice calls to the relevant contacts, such as support team, directly from the web page by clicking a button, evaluates customer concern resolution and boosts customer satisfaction.
Marketing: WebRTC Click to Call is also a powerful engagement and conversion tool on inbound marketing. Not only will WebRTC Click to Call call-to-action drive higher conversion rates, but it also reveals the web pages which prompt the most inquiries and helps identify those callers as marketing qualified or sales qualified leads.
Setting up WebRTC Click to Call in Cloud PBX is a No-brainer.
Yeastar Cloud PBX supports WebRTC Click to Call, allowing website visitors to make a call to a designated destination by clicking a link or button on the web page. Check the supported web browser here.
Basically, you only need to create a WebRTC trunk on the Cloud PBX and place the link generated on your web page to enable customers to make WebRTC calls.
1. Set up a WebRTC Trunk.
Set up a WebRTC trunk on the PBX, a link for the WebRTC trunk will be generated automatically.

2. Designate the WebRTC Call Destination.
Create an inbound route for the WebRTC trunk to route the WebRTC incoming calls. When the website visitors click to call from the web page, the calls will be routed to the configured destination.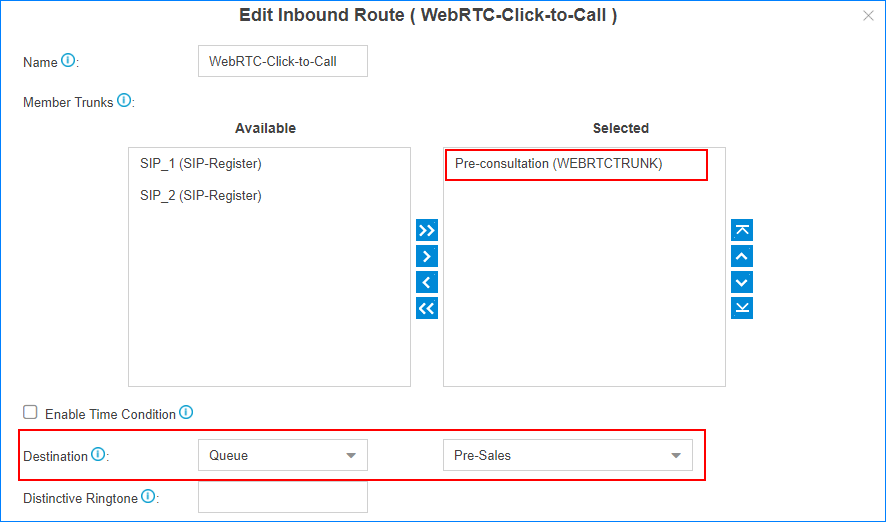 3. Place the Link on Your Website
Create an HTML click-to-call button on your website with embedded WebRTC link.

For more detailed configuration guide, please refer to the user manual here.
The easy-to-use, cost-effective and secure nature of WebRTC Click to Call is here to help deliver optimized business communications experience. Want to have a try? Simply sign up for our Cloud PBX free trial to get a fully-featured cloud-based business phone system and experience WebRTC Click to Call along with other compelling features.