With the latest firmware 30.7.0.11 and QueueMetrics Integration App, S-Series VoIP PBX can support both QueueMetrics Live and QueueMetrics On-Premise, which delivers a powerful one-stop call center solution that allows call center managers to monitor and manage call center with a simple and easy to use interface.
Blog What is Call Center
This integration provides professionals with a top-notch solution for monitoring everything that happens in call center, turning S-Series VoIP PBX into a 360 degrees call centre platform, which offers a suite of enterprise-grade telephony features with minimal fee attached.
Loyway's QueueMetrics call center suite is built for Asterisk telephony systems. With the integration, you can analyses metrics in a VoIP network with complete stats reporting, queue management, call tracking and advanced monitoring features, which let you monitor call center agent productivity, measure targets and conversion rates in real-time with ease of use.
This guide introduces how to install and activate the QueueMetrics Integration App and how to connect S-Series IPPBX to the QueueMetrics Live (cloud-based) and QueueMetrics On-Premise.
Step 1. Install and Activate the QueueMetrics Integration App
Log in to the web user interface of S-Series VoIP PBX, go to App Center and install the QueueMetrics Integration App. ( note: make sure your firmware version is 30.4.0.6 or higher)
Refresh the webpage, the integration App will be shown on the Main Menu.
Enter the App and check the "Enable QueueMetrics Integration".

Step 2. Prepare Your Queuemetrics Call Center
This step will explain how to prepare a Queuemetrics cloud-based or On-premises call center for S-Series VoIP PBX Integration.
Cloud-based: If you need to host your contact center in the cloud, you need to have a QueueMetrics Live ID first. You can purchase the ID from the QueueMetrics official website. Or you can just create a demo (trail) ID right within the QueueMetrics Integration App of S-Series VoIP PBX. The demo ID is available for 30-days free trial.
On-premises: If you need an on-premise call center, install QueueMetrics software on your server first, then edit the system parameters and users on the QueueMetrics to make it works with your PBX. Detailed configuration method can be found here.
Note: you can apply a trial license of QueueMetrics On-Premise from Yeastar to test the integration with Yeastar S-Series VoIP PBX. Just contact us and we'll get in touch to help!

Step 3. Integrate S-Series VoIP PBX with the QueueMetrics
Enter the QueueMetrics Integration App on S-Series VoIP PBX Interface
Choose call center type as " QueueMetrics Live" or "QueueMetrics On-Premise" based on your call center type.
Enter the URL of your QueueMetrics server, your QueueMetrics ID/username and Password, then click "Save". You'll see your QueueMetrics Integration App is running and get a link to login your QueueMetretics.
Visit the link to log into your QueueMetrics call center.

Step 4. "Tell" QueueMetrics How Your Agent Works
We now have to tell QueueMetrics on which queues our agents will be working. Login to your QueueMetrics accounts and do the following settings.
1. Create Agents
Create a new agent on the QueueMetrics Home page and configure the Agent Detail according to the extension settings of your S-Series VoIP PBX. Set the Asterisk agent code, Agent description and Current terminal (agent's extension number) and leave other parameters blank.
Asterisk agent code: The format is "Agent/xxxx" by default. For example, the agent's extension number is 1000, the Asterisk agent code should be "Agent/1000".

2. Create Queues
Create queues according to the queue settings on your S-Series PBX. Click Queues tab > Click Create New > Configure the Queue Detail. The format of Queue is "queue-xxx" by default. For example, if the queue number on the PBX is 6700, the Queue(s) should be queue-6700.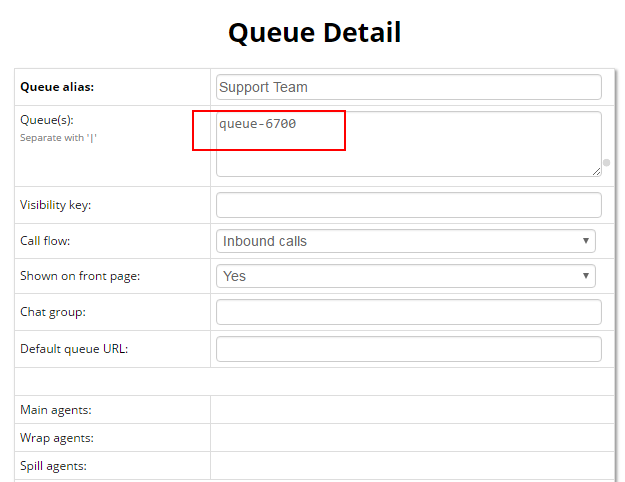 3. Create System Users
QueueMetrics provides Agent's page for agents to log on, log off, pause, see processed calls and do other activities as well. In order to enable agent, you have to create a log-on for each agent that matches exactly the agent code you used in the agent definition. For example, for extension 5001 you would use Agent/5001.
Go to Home> Edit QueueMetrics settings > Administer users > Create New > Configure the User Detail. To check if your changes have been successful, try logging off the agent and logging in again.
---
Need more information?
For more information on how to use integrate QueueMetrics with Yeastar S-Series VoIP PBX, please click here.