1. What is LDAP?
LDAP, or Lightweight Directory Access Protocol, is a client-server protocol for managing related information from a centralized location through the use of a file and directory hierarchy. In other words, it is a protocol for accessing a directory service.
LDAP is used as a phonebook on Yeastar S-Series PBX and Yeastar Cloud PBX so that you can search a keyword from your IP phone. It is an easy and sophisticated solution based on LDAP services available, fulfilling the requirement of searching through a phone directory quickly. LDAP Server provides centralized phone book management, which makes phone book management easy and intuitive. You can set up S-Series VoIP PBX and Yeastar Cloud PBX as a server. Once the LDAP is set up, you can search the LDAP directory and look up contacts on your IP phone.
For example, you can search name, email, and telephone, such as "Yeastar", and it will return all the contacts containing Yeastar.
2. What Kind of information can be stored in the LDAP directory?
The LDAP information model is based on entries.
An entry is a collection of attributes that has a globally-unique Distinguished Name (DN). The DN is used to refer to the entry unambiguously. Each of the entry's attributes has a type and one or more values. The types are typically mnemonic strings, like "cn" for common name, or "mail" for the email address. The syntax of values depends on the attribute type. For example, a cn attribute might contain the value "Babs Jensen". A mail attribute might contain the value "babs@example.com".
Yeastar LDAP phonebook options include phonebook name, first name, last name, nickname, department, office number, mobile number, home number, and email.
3. Configure LDAP Server on Yeastar Cloud PBX
Check out the comprehensive configuration guide here.
3. Configure LDAP Server on S-Series VoIP PBX
LDAP Server is an App in S-Series VoIP PBX App Center. So you can install, uninstall, and upgrade LDAP Server in App Center. After installing LDAP Server App on S-Series PBX, follow the below instruction.
Log in the PBX web interface, go to LDAP Server.
Check the option Enable LDAP Server.

Retain the default LDAP server settings or change the settings according to your needs.
Base DN: Specify the LDAP search base which corresponds to the location in the LDAP phonebook. The search base narrows the search scope and decreases directory search time.
PBX DN: The default phonebook DN.
Username: Specify the username to login the server.
Password: Specify the password to login the server.
Click Save.
Then you can add/delete contacts as required on the LDAP Phonebook. ( note: Yeastar S-Series supports for importing and exporting LDAP contacts.)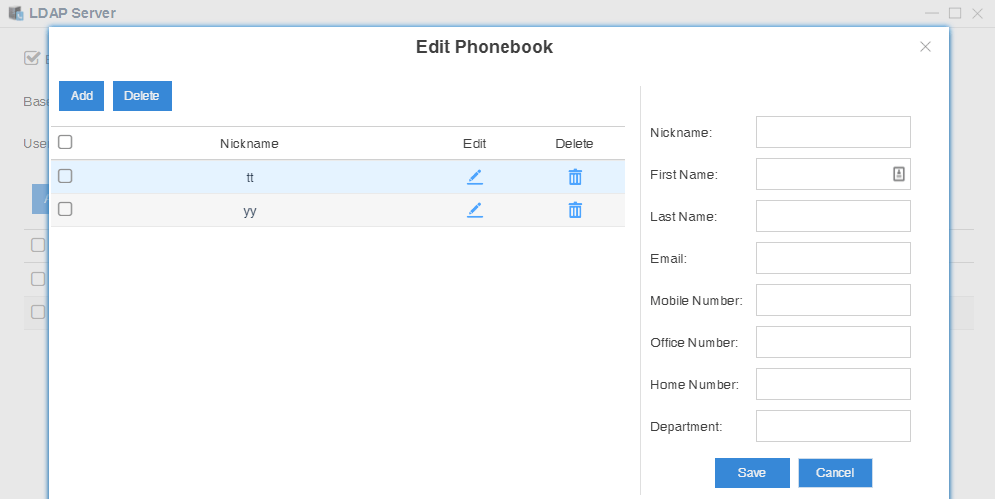 Beside the text guide, we also prepare a short video that shows the complete process of LDAP setup on S-Series VoIP PBX.
4. Configure LDAP on IP Phones
Now, you should configure LDAP settings on your IP phones. The configuration settings you enter in your phone will wildly depend on how your LDAP server is configured.
For detailed configuration, download the Guide here. It contains the actual application process with SIP phones from Yealink, Fanvil, Snom, Htek, Cisco and Grandstream.
5. A Step Further
Besides LDAP server app, Yeastar S-Series VoIP PBX App Center also includes a bundle of powerful add-on apps that can add and manage features independently, such as Linkus App for unified communications softphone, QueueMetrics Live Integration App for cloud/On-premises call center, and Hotel App for easy hotel features management. Just click the button below, take a explore, and know what app can bring business-enhancing benefits to your company.
Yeastar Cloud PBX App Center now includes Linkus softphone, Auto Provisioning, Conference Panel, and LDAP Server. Stay tuned! More will be added.