One of the major difference between Yeastar MyPBX U-Series and the new S-Series VoIP PBX is the App Center. We built the App Center independent from the main framework of the system, to make the installation and management of Apps easy and flexible. In most cases, when you need a new App or an upgrade of the App, you can just operate on the App Center without worrying about the firmware version.
The S-Series VoIP PBX App Center gives users easy access to a wealth of powerful value-added features and capacity, including Linkus softphone, hotel app, billing, VPN server, call center integration app, etc. As an integral part of the S-Series Web interface, the App Center allows you to install, upgrade, and manage Apps designed for S-Series VoIP PBX.
In this article, we will give a brief introduction of each App. Up until May 10th, 2019, The S-Series VoIP PBX App Center now has 10 Apps.
As of Firmware 30.4.0.6, we have updated 3 Apps in the S-Series.
Hotel App empowers users to intuitively manage the booking and check-in and check-out of customers, check status of each room, offer mini-bar service, and run personalized billing reports, and more daily operational tasks in hotels and other hospitality environments.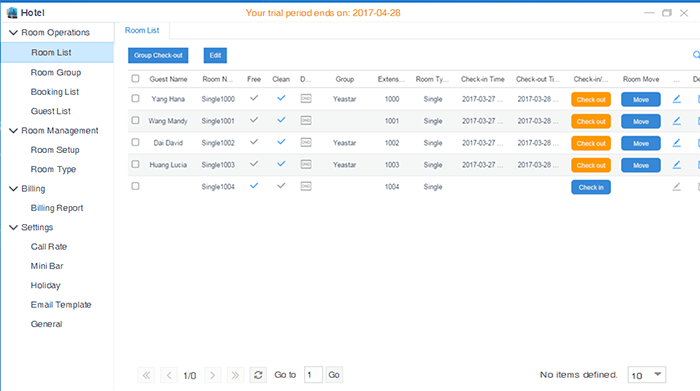 char utile h+ Integration App – Hotel PMS Integration
char utile will act as a middleware between Yeastar S-Series VoIP PBX and the client's property management system (PMS). This helps deliver a robust Hotel PMS integration solution for hotels to streamline hotel operation.
Supported 3rd party PMS Integration can be checked here.

QueueMetrics Integration App provides the interface to connect your S-Series IP PBX and QueueMetrics. QueueMetrics is a call center suite for Asterisk telephony system. The integration helps you to easily build your own cloud or on-premise call center and generate the report of the queue daily, weekly and monthly.
Learn how to integrate QueueMetrics Call Center with S-Series VoIP PBX here.
As of Firmware 30.3.0.10, we have updated 1 App in the S-Series.
Use the Billing App to allocate call credit and top up extensions, and conduct call analysis. Both prepaid and postpaid payments are supported. Call Rate can be set according to extensions, time periods, call duration, prefix number and number length. Real-time top-up history and statistics are all recorded.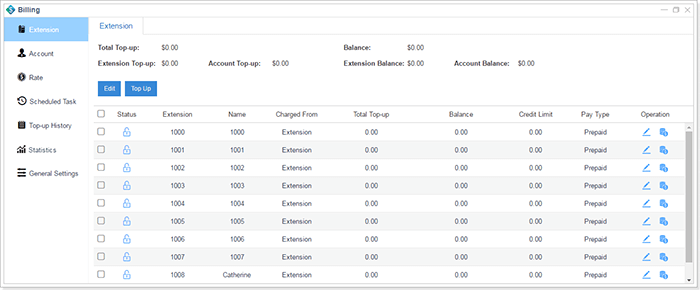 As of Firmware 30.2.0.27, we have updated 1 free App in the S-Series.
Linkus Unified Communications App is a desktop/mobile softphone to coordinated with Yeastar S-Series VoIP PBX and Cloud PBX. Available using Microsoft Windows, macOS, iOS, and Android, Linkus makes real-time business communication easy across multiple devices. It turns your mobile phone or computer desktop into fully-featured office extension and links you and your colleagues and customers anywhere anytime.
Related: Linkus Desktop Client | Linkus Mobile Client | Linkus Cloud Service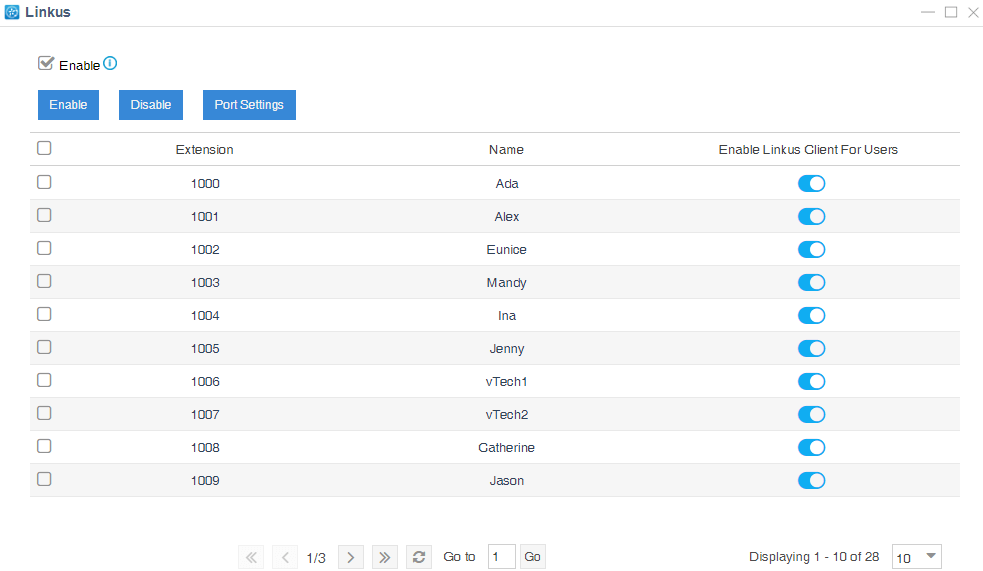 As of Firmware 30.2.0.8, we have updated 1 free App in the S-Series.
VPN Server application provides an easy VPN solution that turns your S-Series PBX into a VPN server. You can set up multiple VPN clients to access the Yeastar S-Series VPN server safely and securely.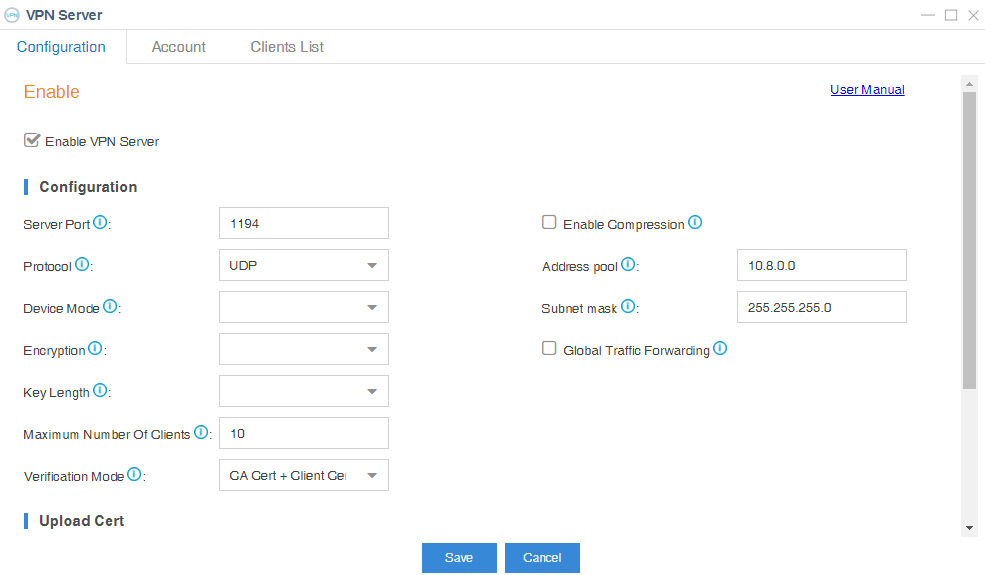 As of Firmware 30.1.0.7, we have included 4 free Apps in the S-Series.
LDAP Server in S-Series provides centralized phone book management, which makes phone book management easy and intuitive. You can set up S-Series VoIP PBX as a server. Once the LDAP is set up, you can search the LDAP directory and look up contacts on your IP phone.

Yeastar Auto-Provisioning allows users to avoid stress and reduce the time of configuring supported and certified endpoints. It automatically registers phones to the PBX and allows you to configure them within the web interface of the S-Series or Yeastar Cloud PBX to change things like passwords and extensions, and any associated user or group settings.
Check supported phone brands and models here.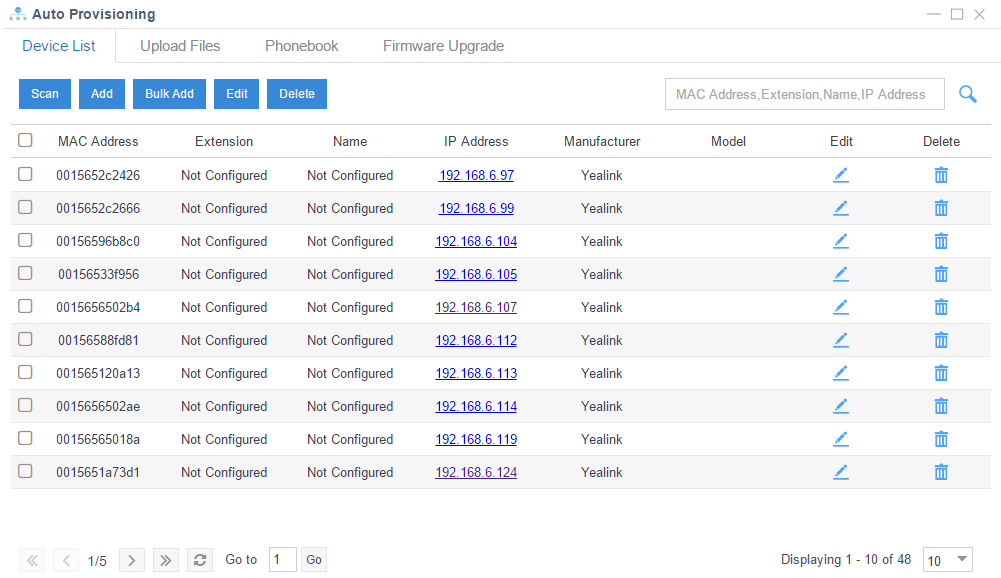 Conference Panel
Conference Panel is a visual control panel for your conference calls. You can batch invite people with the dial-out feature in the panel or use your telephone. You can also save all the attendees' contact information to the "Contact Group" so you can reuse it next time.
PBX Center
The PBX Center separately manages all the functionalities under S-Series VoIP PBX, CDR Recording, and PBX Monitor. It delivers a quick update of these functionalities.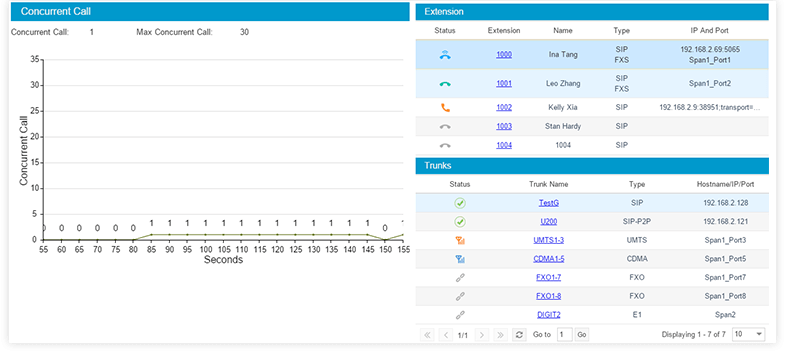 PBX Center – PBX Monitor