"We've seen two years of digital transformation in two months."
The year before, no one could expect where 2020 would take us: the global, long-term pandemic has uprooted us from the work lives we've had for decades, and virtually overnight, most of the workforce began working remotely. It wasn't exactly easy. Businesses rushed to adopt new technologies to survive; and the last six months alone have produced more digital transformation than the past decade.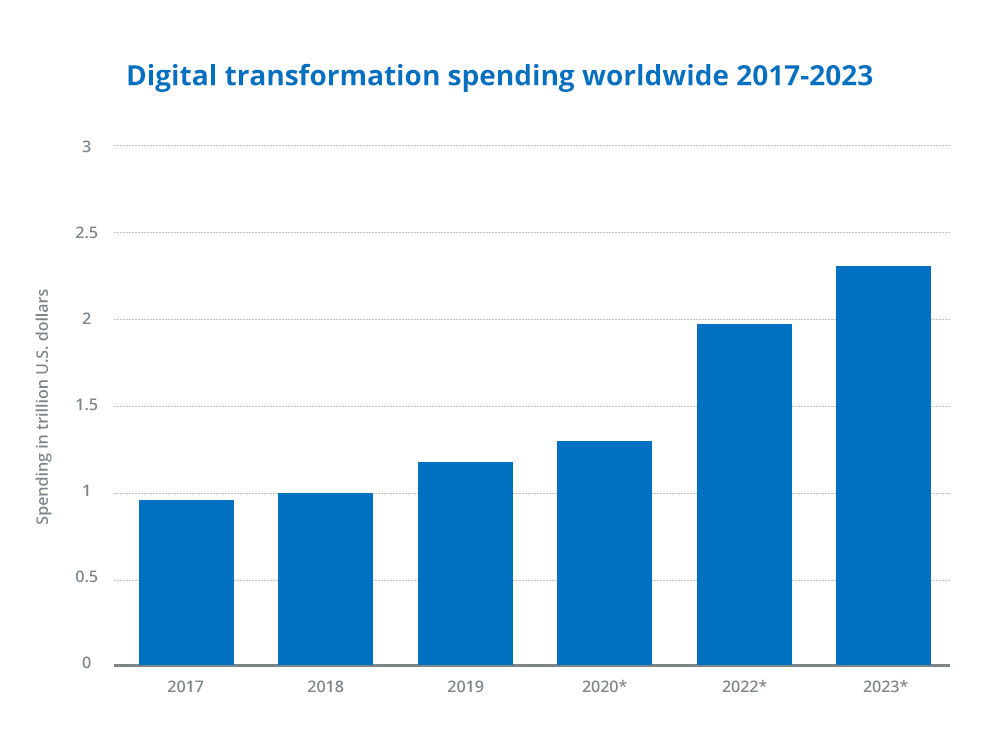 But what was changed beneath the large landscape? After all, it's not the first predicament businesses have faced. Nearly 7 in 10 (69%) organizations have experienced at least one crisis in the last 5 years, and 95% are convinced it won't be their last.

It's all about business resilience and digital networking. To move from the survive to the stive mode in 2021, IT agility and digital workplace resilience will become the new emphasis for business to cope with the future uncertainties and the increasingly set of dynamic and distributed set of users, devices, applications, and workloads.
From cloud, mobility, virtual collaboration to smart office, many digital workplace technologies will be elevated from the nice-to-have to must-have status. To get a sense of where these opportunities may lie, here are 5 important digital workplace trends that you should be aware of.
1. Hybrid Cloud is Gaining Momentum
From UCaaS applications and on-prem solutions to a mix of on-prem infrastructure, public and private cloud, hybrid cloud strategies help organizations strike the right balance for their unique infrastructure needs. Over the past years, we have seen a major growth of tools that enable simpler connectivity between on-premises infrastructure and cloud service. These investments are all about meeting the customer where they are at the moment.
According to 2020 IDG research about business IT environments, only 9% of organizations' environment is all cloud, while 54% said theirs are mostly on-premised with some cloud and 29% said mostly on the cloud with some on-premises. And in the wake of global pandemic, IT leaders are increasingly adopting hybrid cloud to reduce costs, increase flexibility, and improve business resilience.
21% of organizations are moving additional workloads to the public cloud due to the pandemic-related CapEX issues."
Source: IDC, "COVID-19 Impact Survey, Wave 5", 2020
The hybrid cloud model not only addresses the technological barriers to remote business connectivity and collaborations, but also being proactive on issues like business investment, privacy, security, and compliance.
2. Work from Home Outlasts COVID-19
Workers have been clamoring for increased work flexibility for a long time and the global pandemic has greatly accelerated that process. According to a Gartner survey of 129 business leaders worldwide, over 80% of respondents plan to permit remote work after the pandemic. And in a PwC survey of 6669 CEOs, 78% agree that remote collaboration is here to stay for the long-term.
Part of what made this possible is the availability of cutting-edge remote unified communications and collaboration tools. Last year, we have seen the explosive growth of WFH-enabled services like Zoom, Webex, and Microsoft Teams, and at Yeastar ourselves, the Linkus Cloud Service and Cloud PBX. And we will see a remnant of this for the next few years at least, and maybe beyond as this trend already had momentum before 2020.
The long-lasting global work-from-home movement will continue to drive the demand for UC&C applications and improve business productivity despite physical distance.
3. Video Conferencing Continues to Boom
Now more than ever before, companies are using video conferencing to connect with employees, customers, and partners. In fact, a Forbes study shows that video conferencing is becoming the new norm (as the consensus of 80% of business executives worldwide). And a market share analysis by Global Market Insights also predicts that the global video conferencing market will grow at over 19% CAGR between 2020 and 2026.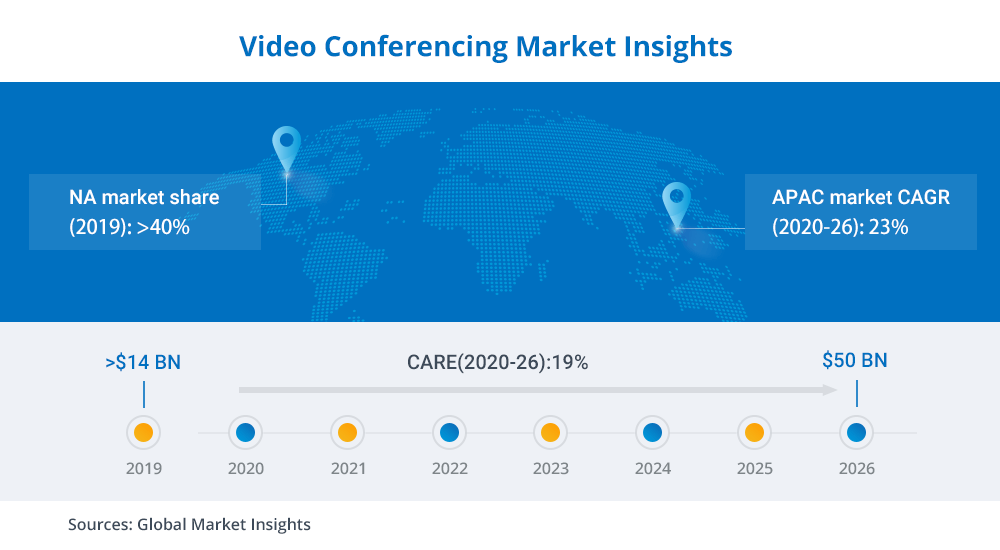 The reasons for the boom are obvious: video is more dynamic and now more a necessity. Experiencing the short chaos moving from physical face-to-face communications to online meetings, businesses now become to realize how effective and productive video conferencing is. It shortens the business turnaround time with eliminated traveling, strengthens relationships, and makes sharing easier with a variety of communications tools including live streaming, screen sharing, digital whiteboard, and integrated chat. With increasing market acceptance and demand, video conferencing will only continue to boom as a critical part of digital workplace collaboration.
4. IoT for Intelligent Digital Workplace
The Internet of Things (IoT) is a "system of systems" in which electronic devices, apps, and platform services are interconnected together to create new modes of collaboration and business efficiency. It has been changing the way people work for a while now, but with the influx of remote workers, the technology has a greater chance to shine.
Forrester Research predicts that at least 80% of companies will adopt new office safety and resource efficiency strategies in the post-pandemic era and IoT plays a critical role. Smart IoT applications like sensor-enabled space utilization, remote equipment management, and inter-platform collaboration will increasingly be the main empower to fuel workflow automation and employee productivity.
For leaders in the VoIP industry, there are opportunities to spot beneath the large trend as well. According to the Microsoft IoT Signals report (Oct. 2020), nearly one in three (33%) of decision-makers state that their organizations will increase investment in IoT due to the pandemic. And part of that might be contributed by the smart interactions between digital communications and the physical environment. And business-critical desktop and mobile applications, video conferencing endpoints, meeting controllers, and sensors might play a vital role to support safe and digital working environments.
Related: VoIP + IoT? Synergy Drives the Future of Smart Solution
5. The Rise of All-in-one Communications Ecosystem
With a new focus on being always connected, businesses today want communications solutions that are media-richer, opener, more connected than before. Instead of having a standalone system, users are increasingly interested in the ones that are versatile and can interconnect various 3rd-party business services to streamline data processing and facilitate team collaboration.
The increasing need to reduce enterprise overhead costs and the need to eliminate the purchase of standalone systems have propelled the market over the past few years."
Source: Grand View Research, Unified Communications Market Size, Industry Report, 2019-2020
Systems that featuring Unified Communications & Collaboration (UC&C) – incorporating multimedia-capacity such as voice, video, text, and BYOD applications in one tech stack – will become the mainstream. And those who have ready integrations for popular CRM platforms and collaboration tools like Microsoft Teams will outperform.
Worldwide unified communications & collaboration (UC&C) revenue grew 25.1% year over year and 12.4% quarter over quarter to $11.5 billion in the second quarter of 2020."Source: IDC, Worldwide Quarterly Unified Communications & Collaboration QView.
What This Means for the Workplace of Tomorrow
Digital workplace is all about the employees' ability to do their job by collaborating, communicating, and connecting with others. The proliferated technologies such as Hybrid Cloud, Unified Communications, and IoT are poised to take monumental enhancement to how businesses will work in the near and far future.
Considering the long-lasting "work-from-home" movement and the growing "hybrid" way of working today, most businesses will need unified communications solutions like Yeastar P-Series that drive boundless team communications & collaborations, regardless of devices, platform and distance.